Sonic Visualiser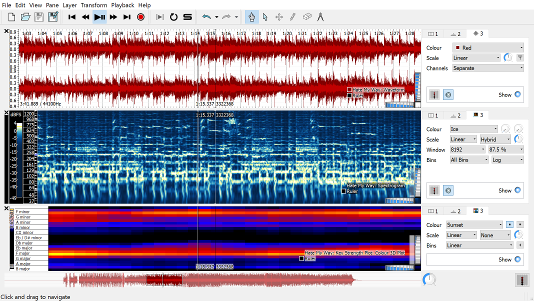 The aim of Sonic Visualiser is to be the first program you reach for when want to study a musical recording rather than simply listen to it.
We hope Sonic Visualiser will be of particular interest to musicologists, archivists, signal-processing researchers and anyone else looking for a friendly way to take a look at what lies inside the audio file.
Sonic Visualiser is Free Software, distributed under the GNU General Public License (v2 or later) and available for Linux, OS/X, and Windows. It was developed at the Centre for Digital Music at Queen Mary, University of London.
Citations: If you are using Sonic Visualiser in research work for publication, please cite (pdf | bib) Chris Cannam, Christian Landone, and Mark Sandler, Sonic Visualiser: An Open Source Application for Viewing, Analysing, and Annotating Music Audio Files, in Proceedings of the ACM Multimedia 2010
https://www.sonicvisualiser.org/download.html
or
(This post was last modified: 28-12-2018, 01:49 PM by
Bam
.)